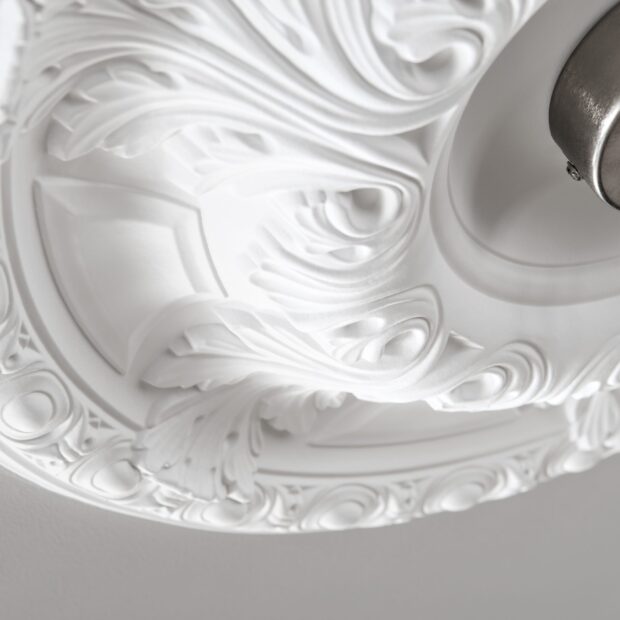 Content
The utmost care has been taken to ensure product images, profiles of cornice, measurements, descriptions and any other details associated with our products provide a description that is as accurate as possible. All illustrations and profiles are intended as a guide only and shall not be binding to the supplier.
Orders
Once your order has been placed you will receive an order confirmation email. When your product has been dispatched you'll receive another email confirming this.
All lightweight products will be dispatched within 3 working days.
As we only stock around eight lengths of each plaster cornice due to the nature of the product, we will advise you on a delivery date once the order has been received.
As most plaster products are made to order, there will be a 40% handling charge on any plaster product orders that are cancelled.
Deliveries
The delivery date is an approximation only and delivery time shall not be of the essence unless agreed in writing by the supplier. The goods may be delivered prior to the delivery date upon giving reasonable notice to the customer. If the customer fails to take delivery of the goods on the agreed delivery date and time, or fails to provide any authorisations required to enable the goods to be delivered on that date, we shall be entitled upon given notice to the customer to store the goods at a cost. The delivery will be deemed to have taken place and all cost of storage, delivery and any insurance costs arising from a failed delivery will be charged to the customer.
Returns policy
Notify us within 7 days of you receiving the goods. Please note that we don't accept returns after this period. Please email your return request to sales@leylanddecorativemouldings.co.uk or post it to 318 Golden Hill Lane, Leyland, PR25  2YJ (do not return goods to this address – see point 2).
On our receipt of request, a return address will be provided to you.
The cost and responsibility for returning items is yours. Smaller items can often be returned most cost effectively from your local Post Office. Larger and heavier items may need another carrier.
You must return the goods within 14 days of you notifying us. Please note that we don't accept returns after this time.
The goods returned must be in a resaleable condition and in the original packaging so that we can re-sell them. We will not credit goods that are received back damaged as they have no value. We recommend that you insure the items against damage with the carrier you choose to return them by. We will sign for any returns as 'damaged' if there is damage to the packaging upon return, and advise you of any damages within 2 working day of receipt and provide photographs if required to help you with your claim with your carrier.
We will then credit you the full amount for the products returned.
There will a 20% restocking fee on all lightweight returns.
There will be a 40% handling charge on all plaster products.
Defected goods
When delivery is received, if the goods are defective or damaged in any material way, or the customer refuses to accept them or are signed for as damaged goods, the customer needs to notify us in writing within 2 working days. We will either;
Refund the customer the full amount of the damaged goods, or replace the damaged goods within 10 working business days.
We shall be under no liability in respect of any defect arising from any wear and tear or willful damage, negligence or failure to follow our instructions (whether given in writing or verbally), alteration or misuse of the goods without our prior approval or any other act on part of the customer.
Any cracks that appear through transit or handling of the plaster products will not be deemed as defective goods, as these are handmade, fragile products and cracks do appear when in transit, handling and when being installed. These cracks can be easily rectified by a competent installer.
Payments
Secure payments.
All payments to be made in full when orders are placed.
No credit given.
All major credit cards and PayPal accepted.